******
*****
*****

Pool & Club House Update
Pool Update
The pool is open!
Please review the Pool Rules and Regulation on the Swim at Your Own Risk Page.
*********
The trash cans in the pool area are intended for water bottles, etc.
If you have a party, please bring trash bags
&
Remove your trash from the pool area.
As home owners, we all pay to maintain the pool area.
Please do your part to help keep it clean, including the bathrooms, and the cost to maintain it down.
Enjoy the Pool, Stay Cool & Stay Safe!
********
Club House Update
We are excited that Ground Breaking for the new Club House has begin.
The park will be closed until construction is complete.
Keep in mind, the walking trail in front of our park, along the bayou, leads to McClendon Park which is a very nice park.
****
Clayton now has FREE WI-FI at the park/pool.  The free wi-fi is for Clayton Residents only.  Please do not give out the code to non-residents.
Clayton pool guest
Clayton123
****

Clayton HOA is now on Facebook!
Like Us, and stay up to date with Clayton News, as well as, lots of useful and interesting posts.
https://www.facebook.com/ClaytonHOA/
****
Clayton Nextdoor.com
Join the 184 Clayton Residents who are members of Nextdoor.com
****
U of H Students Are Involved!
This Spring, the Clayton Homeowners Association with Louis Jara Construction will begin building a new community clubhouse designed by Rivers Barden Architects next to the neighborhood pool on Green Crest Drive.  During the construction process, a group of architecture students from the University of Houston will be joining some of the site meetings to learn first-hand the ins and outs of how a building comes together.  The students are currently enrolled in the 3rd year of their undergraduate degree; a perfect time to gain a better awareness of the construction process as they navigate an understanding of the many variables that influence the design of a building.
On February 24th, the students visited the park with Architect, Kevin Barden of Rivers Barden Architects to understand the important site factors influencing the design of the clubhouse.  With the new building designed to embrace the existing trees in the park; students learned how fencing will be used throughout the construction process to protect the trees from damage.  The students also learned about how the building is positioned on the site to allow for a sense of inclusion while at the same time, a sense of security for the neighborhood.  Finally, they discussed how the orientation of the clubhouse responds to the position of the sun, with most of the windows facing north, minimizing heat gain from the sun's exposure.
****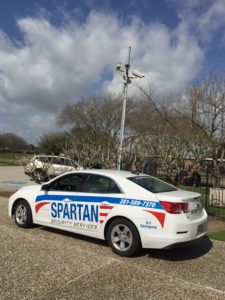 Security Up-Date
Security is the top priority of the Clayton Board of Directors.  Repair expenses that are due to vandalism, cost all Clayton Home Owners.
The Clayton Board will take any steps necessary to make criminals pay for any damage done to our community park area.  
****